Polacy w wielkich klubach (6): Bayer 04
Po dłuższej przerwie prezentujemy kolejny odcinek cyklu "Polacy w wielkich klubach". Tym razem przyjrzymy się polskim zawodnikom, którzy występowali w Bayerze 04 Leverkusen. Zapraszamy do lektury.
Bayer Leverkusen to klub, w barwach którego mogliśmy na przestrzeni lat oglądać wielu Polaków, którzy w mniejszym lub większym stopniu przyczynili się do sukcesów klubu z Bay Arena. Jest to z pewnością jeden z zespołów, który chętnie sięga po zawodników z Polski, czego przykładem może być pozyskanie w ostatnim czasie Arkadiusza Milika, czy wcześniej Sebastiana Boenischa. Ale zacznijmy od początku...
Tradycja polskich zawodników w Bayerze Leverkusen sięga lat osiemdziesiątych ubiegłego stulecia. W 1982 roku, Rudolf Wojtowicz pojawił się w Leverkusen z całym swoim dobytkiem w fiacie 125p. Z Polski, gdzie grał w Szombierkach Bytom, po prostu uciekł. W drużynie "Aptekarzy" grał przez cztery sezony, będąc podstawowym zawodnikiem i występując w 76 meczach. Potem występował też w Fortunie Düsseldorf. Po zakończeniu kariery piłkarskiej został trenerem.
W 1983 roku do Wojtowicza w Bayerze dołączył kolejny polski piłkarz - obrońca Roman Geszlecht. Również w tym przypadku, nie była to zwykły transfer zawodnika Zagłębia Sosnowiec. Przy okazji meczu młodzieżowych reprezentacji z Anglią, Geszlecht wraz z Wenantym Fuhlem ukradli koszulki ze sklepu sportowego. Tożsamość złodziei została szybko ustalona, a zawodnicy, w obawie przed dyskwalifikacją po powrocie do kraju, postanowili do Polski nie wracać, a właśnie osiedlić się za naszą zachodnią granicą (przyjął także niemieckie obywatelstwo, choć zawsze podkreślał swoją polską narodowość). I właśnie po tych wydarzeniach Roman Geszlecht trafił do Leverkusen, gdzie w ciągu dwóch i pół sezonu wystąpił w 49 spotkaniach.
Po tych dwóch "nietypowych" transferach, trzeci Polak trafił do "Aptekarzy" już na normalnych transferowych warunkach. Andrzej Buncol, bo o nim mowa, był zawodnikiem Legii Warszawa, skąd w 1986 roku, tuż po Mistrzostwach Świata w Meksyku, trafił do drużyny FC Homburg. Dobry sezon w jego wykonaniu po roku zaowocował przeprowadzką do Bayeru właśnie, gdzie stał się klubową gwiazdą. Wraz z klubem z Leverkusen w 1988 roku sięgął po Puchar UEFA. Później grał jeszcze w Fortunie Düsseldorf. Dziś pracuje z drugim zespołem Bayeru jako asystent trenera.
W 1989 do Buncola dołączył napastnik Marek Leśniak. Jednak w jego przypadku ponownie mamy do czynienia z nietypową "przeprowadzką" z Pogoni Szczecin. Po przybyciu do Leverkusen jednak czekała go dyskwalifikacja i by móc grać napisał nawet prośbę do ówczesnego ministra sportu, Aleksandra Kwaśniewskiego o żelazny list, który umożliwiłby mu bezpieczny powrót do kraju. O zawodnika upominała się bowiem warszawska Legia, klub wojskowy, który chciał na czas odbycia służby wojskowej mieć zawodnika u siebie. Ostatecznie Bayer porozumiał się z Pogonią finansowo, a ponoć Legia dostała rekompensatę w postaci... wagonów aspiryny. Leśniak w Leverkusen zagrał w 117 meczach, zdobywając 19 goli. Odszedł w 1992 roku i potem grał jeszcze w kilku innych niemieckich klubach.
Po odejściu Leśniaka przez kilka lat nie mieliśmy polskiego zawodnika w Bayerze, aż w 1998 roku przybył z GKS-u Katowice Adam Ledwoń. Kariery na Bay Arena jednak nie zrobił, przez półtora roku zagrał w zaledwie 10 spotkaniach. Potem grał w Fortunie Kolonia, by następnie przez kilka lat grać na austriackich boiskach. Znany był z impulsywnego charakteru i działania pod wpływem emocji. W 2008 roku popełnił samobójstwo.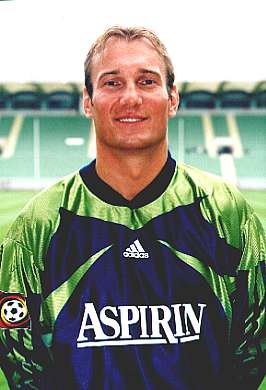 Niedługo po przybyciu Ledwonia do Bayeru przybył także bramkarz,
Adam Matysek
. Golkiper przybył do klubu z drugoligowego FC Gütersloh. Leverkusen potrzebowało bramkarza, bo kontuzji nabawił się Dirk Heinen. Matysek z miejsca stał się jednym z czołowych bramkarzy Bundesligi i ulubieńcem kibiców. W drużynie był skłócony z gwiazdą, napastnikiem Ulfem Kirstenem, co zaowocowało kiedyś nawet bójką na treningu. Z czasem zaczęto obwiniać go o tracone gole, grał coraz bardziej niepewnie, co zaowocowało utratą miejsca w podstawowym składzie. Z Leverkusen odszedł w 2001 roku. Obecnie jest trenerem bramkarzy w 1. FC Nürnberg.
W 1999 roku do klubu przybył młody Mirosław Spiżak. Jednak ten zawodnik nie przebił się do pierwszej drużyny Bayeru, będąc przez cały swój pobyt zawodnikiem rezerw. W 2000 roku odszedł do SpVgg Unterhaching.
W sezonie 2002/2003 Leverkusen kupiło z Energie Cottbus Radosława Kałużnego. W związku z kontuzją Jensa Nowotnego, "Aptekarze" potrzebowali zastępce, a Kałużny w Cottbus był wyróżniającym się zawodnikiem. Jednak podczas swojego pobytu w Bayerze były zawodnik Wisły Kraków toczył proces rozwodowy z żoną, co odbiło się także na jego grze. W efekcie w Bayerze zagrał tylko w 12 meczach.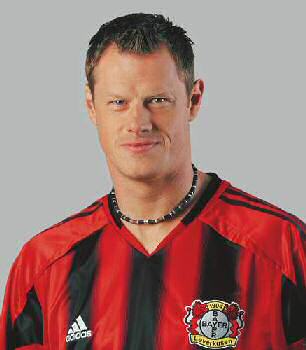 Kolejnym Polakiem w Bayerze był
Jacek Krzynówek
, skrzydłowy sprowadzony z 1. FC Nürnberg w 2004 roku. Sławę podczas tego pobytu przyniosły mu głównie efektowne występy w Lidze Mistrzów, gdzie przyczynił się do pokonania takich drużyn jak Real Madryt, czy AS Roma. Po efektownych występach przyszły kłopoty. Klaus Augenthaler, który stawiał na Polaka został zastąpiony przez Michaela Skibbe, który już tak przychylny skrzydłowemu nie był. Dodatkowo sam Krzynówek był wyraźnie w słabszej dyspozycji. Po dwóch latach w Bayerze przeszedł do Wolfsburga, ale już nie powtórzył swojej dobrej formy z występów w Norymberdze czy Leverkusen. Łącznie W Bayerze zagrał w 52 spotkaniach, zdobywając 9 goli.
Swego czasu w młodzieżowych drużynach Bayeru grał także Andre Dej, jednak obecnie zawodnik ten jest zawodnikiem Sportfreunde Siegen, występującego w Regionallidze.
W 2009 roku do Bayeru Leverkusen przyszedł bramkarz Tomasz Bobel, wcześniej grający w azerskim Neftçı Baku. W pierwszej drużynie jednak nie udało mu się zadebiutować, za to ciągle jest zawodnikiem drugiej drużyny Bayeru. W tym samym roku do Leverkusen przybył Tomasz Zdebel, wcześniej gwiazda VfL Bochum, jednak odszedł z powodu przesunięcia do zespołu rezerw. Na Bay Arena przebywał rok, notując 12 występów.
Obecnie zawodnikiem pierwszej drużyny "Aptekarzy" jest
Sebastian Boenisch
, który jednak po niezłym początku zaczyna mieć problemy z miejscem w podstawowym składzie. Formalnie graczem Leverkusen jest także
Arkadiusz Milik
, który obecnie przebywa na wypożyczeniu w Augsburgu.
Z niecierpliwością czekać możemy także na nadchodzące okienko transferowe, bowiem sporo mówi sie o tym, że latem do klubu z Bay Arena dołączyć może Grzegorz Krychowiak.
Autor:
Marcin Jodłowski
Data: 10.02.2014; 12:02; źródło: ePilka.pl
Copyright © 2018

Hazard może uzależniać. Graj odpowiedzialnie.
Serwis przeznaczony TYLKO dla osób które skończyły 18 lat. Zakłady bukmacherskie nieodłącznie związane są w ryzykiem. Jeśli zauważyłeś u siebie objawy uzależnienia skontaktuj się z serwisami oferującymi pomoc w wyjściu z nałogu hazardowego. Serwis epilka.pl ma charakter informacyjny, nie nakłaniamy i nie zachęcamy do uprawiania hazardu.